Flight Over The Nazca Lines From Ica Airport
Nazca Lines Tour from Ica  – Overview
Soar into the Peruvian sky aboard a Cessna Grand Caravan for the ideal Nazca Lines airplane tour. The Cessna offers large windows and individual 12 leather seating to create the perfect atmosphere to enjoy spectacular views of the Nazca lines.
Gaze in awe at a UNESCO World Heritage Site. This tour lets you admire the pre-Inca civilization grandeur from the air named the Nazca civilization.
As you know The Nazca lines hundreds of perfectly straight striations, gigantic geometric shapes, and figures covering more than 500 km2. Build by the ancient Nazca people who lived between 400 B.C to 600 A.D Approximately.
This air tour lets you see the Nazca Lines also from Ica as a middle airport option located 300 km from Lima because you prefer to stay and relax next to the sand dunes drinking a Pisco sour. As you know there are several reasons why to stay in the Capital of the Region.
After a gentle landing at the airfield of the Ica Airport, take your time asking your knowledgeable guide any questions you may have before we drive you back to the hotel in the City of Ica or in the Huacachina Oasis.
Why book this experience?
Flight over one of the most mysterious shapes and lines on earth.
The Nazca Lines has been designated a UNESCO World Heritage Site.
Flight Over The Nazca Lines From Ica Itinerary:
Day Activity You will be picked up from your hotel LAS DUNAS or a different hotel in the city of Ica or from the bus terminal of Cruz del Sur and taken in an air-conditioned vehicle to the airport located 20 minutes from the bus terminal Then you will board a light aircraft Grand Cessna Caravan for a memorable flight over Nazca Lines. A bilingual guide (English/Spanish) will accompany you on this tour in order to provide you with the respective briefing and tips to avoid motion sickness.
The total time of flying lasts exactly 1hr.10 min. but only 30 minutes you will be seeing the Nazca Lines the rest of the time is to get to the place and come back to the airport with an also impressive view of our Peruvian south coast.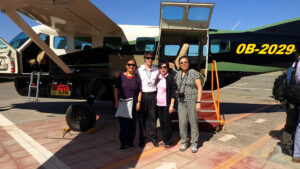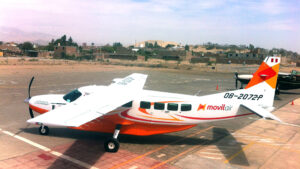 *Return to the private airport Las Dunas.
At the end of the flight, you will be dropped back at your hotel selected in Ica, Huacachina Oasis, or the bus terminal.
Inclusions:
Hotel pick-up and drop-off round-trip transportation from selected ICA hotels or hostels located in the Huacachina Oasis.
If you are arriving from Lima, just let us know the bus company name and the approx. time of your arrival to pick you up from the bus terminal.
Bilingual guide (English / Spanish)
Projection of video about the Nazca Lines at the airport (sometimes not available)
30 minutes sightseeing flight over the Nazca lines.
Total flight time: 1hr. 10 min.
Nazca Lines maps.
Exclusions:
Airport Tax (S/40.00 per person) it must be paid in person and in cash.
Meals.
Available:
Daily Nazca Lines Flights from the private Ica Airport Las Dunas / Panamerican Road Km.300.
First Departure time and Last Flight:
The flight will be available from October 15th,2022 (10:30 hrs. to 12:30 hrs.)
flying during the morning is far preferable to flying in the afternoon.
Return time of your flight:
Low Season: the total operation for flights can take 2 hrs. (sometimes there are short delays before the flight, meanwhile, we will be able to watch a video film to get more information about Nazca Lines).
Peak Season: The exact departure of the flight would depend on weather conditions & air traffic, please remember that we will be in the wintertime.
Additional Information about your Nazca flight:
This flight will be available in Ica from October 15th, please check our different multiday tours as alternatives to get the flight tour which includes private transportation from LIMA in full day tour or 2 days tours.
furthermore, we offer the classic flight from Nasca airport (including transfer from Huacachina) or a separate flight from Nazca, or Pisco airport.
This flight must be booked at least 4 days in advance of your travel date if you are going to do it through our website.
The confirmation tour voucher includes the itinerary and contact details and local telephone numbers of the tour guide.
We will happily answer any questions about your classic flight over the Nazca lines.
Apart from the city of Nasca we also can provide you services from the Ica and Pisco airport, please feel free to ask any questions about these services.
We will require certain information from you in order to book your classic flight over the Nazca lines such as:                          Participant's full name:
Nationalities:
Passport numbers:
Ages:
Exact weight:
The hotel address in Ica:
Date of the Nazca Lines Flight: Service Payment in advance:
Participant restrictions:
Participants weighing over 300 pounds (136 kg) must book an additional seat to accommodate weight restrictions.
Don't forget to bring your passport and camera …!!
Be sure to check out all of the other amazing tours in Ica that we have to offer!
Price:
USD 240
per person (based on 2 people).
Reserve now
* Bring original passport.
* Paypal fees are not included for online payments.
* Bring your camera and battery fully charged.
* Have light breakfast.