Flight Over The Nazca Lines From Pisco Airport
Tour cost: US$290 per person. Total flight time: 1 hr. 40 min. location: Pisco airport in Peru.
Overview
Take a visually stunning superior airplane tour from the new international airport of Pisco the closest airport departing from Lima and going to the south of the country (220 Km from Lima).
Gaze in awe at a UNESCO World Heritage Site. This aerial tour allows you to admire the pre-Inca civilization grandeur from the air. named the Nazcan.
As you know The Nazca lines hundreds of perfectly straight striations, gigantic geometric shapes, and figures covering more than 500 km2. Built by the ancient Nasca people who lived between 400 B.C to 600 A.D Approximately.
After a gentle landing at the airfield of the Pisco Airport, take your time asking your knowledgeable guide any questions you may have before we drive you back to the hotel in Paracas or Pisco city.
Why book this experience?
Flight over one of the most mysterious shapes and lines on earth.
The Nazca Lines has been designated a UNESCO World Heritage Site.
Save many hours driving. the international Pisco Airport is just located 3.5 hours away from Lima.
Airplane model to be used:
The Cessna Grand Caravan is recognized for its reliability, efficiency, and safety by airlines, charter operators, and cargo carriers worldwide. Generally designed for challenging missions, high payloads, and short and rough trips, while offering the economy of a single engine simplicity tracks.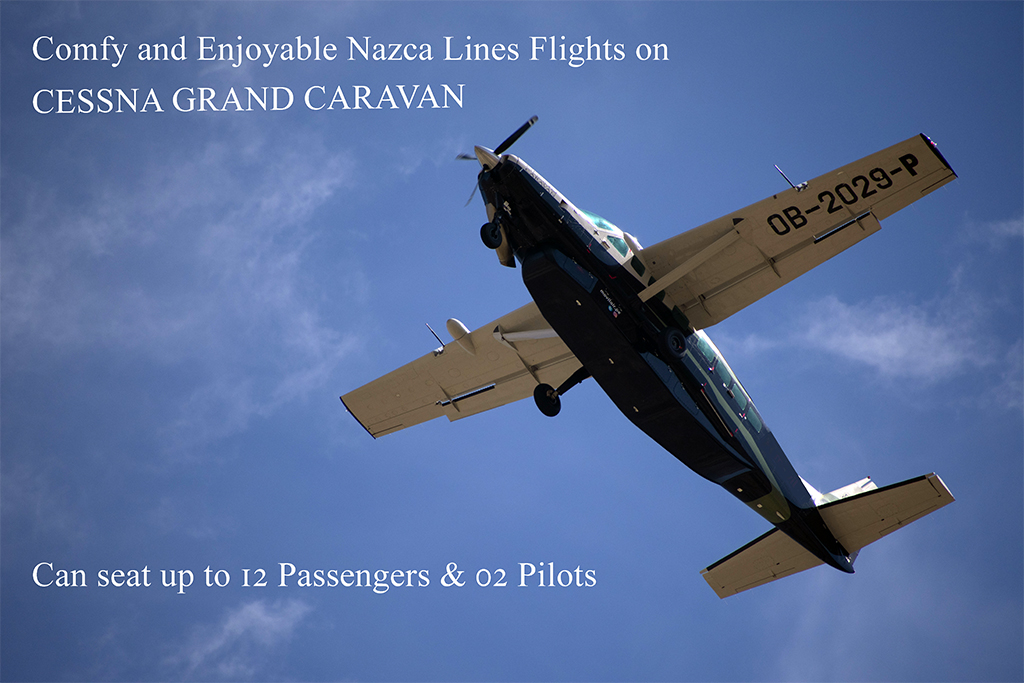 Features:
12 passenger capacity
Garmin System
Air conditioner
Periodic inspections
All seating positions feature windows
Oxygen
Itinerary for this superior flight:
On the day of the Activity, our customers will be collected from a hotel selected in Paracas or from the bus terminal of Cruz del Sur. then we will drive you to the Pisco airport located 20 minutes from the Paracas district. Then you will board a light aircraft Grand Cessna Caravan for a memorable flight over Nazca Lines. before you board the airplane our English-speaking tour guide will accompany you on this tour to provide the respective briefing about the aerial tour and some tips to avoid motion sickness
The total time of flying lasts exactly 1 hr. 40 min. but in only 30 minutes you will be flying over the Nasca Lines the rest of the time is just to get to the place and come back to the international Pisco airport with an also impressive view of our desert on the Peruvian south coast.
Return to the Airport of Pisco.
At the end of the flight, you will be dropped back at your hotel selected in Paracas, Pisco, or the bus terminal.
Nazca Lines from Pisco Airport Inclusions:
Hotel pick-up and drop-off round trip transportation from select Paracas hotels.
If you are arriving from Lima, just let us know the bus company name and the approx. time of your arrival to pick you up from the bus terminal.
Assistance for a local tour guide from Nasca or Paracas.
1 hr. 40 minutes Sightseeing Flight over the Nazca lines.
Nazca Lines maps.
Exclusions:
Airport Tax (USD 4.27 per person)
Meals such as lunch or dinner are not included
Insurance / Immunizations Costs of any Kind
Available:
Daily Nazca Lines Flights from the Pisco Airport Capitán FAP Renán Elías Olivera) located to 220 km. from Lima. first departure at 11:30 am.
First Departure time and last Flight:
The flights always depend on weather conditions.
but flying during the morning is far preferable to flying in the afternoon.
Assuming excellent weather conditions these are approximately the flight departures: 11:30, 13:30, and 15:30 hrs.
the previous day of the tour the flight company will reconfirm the flight departure.
Return time of your flight:
Low Season: the total operation for flights can take 3 hrs. (Sometimes there are short delays before the flight, meanwhile, we will be able to watch a video film to get more information about Nazca Lines).
Peak Season: The exact departure of the flight would depend on weather conditions & air traffic, please remind us we are in wintertime.
Additional Info about your Nazca Lines Tour From Pisco:
We also provide the same flight from Pisco including private transportation departing from Lima please check our private full Day tour from Lima for couples or small groups.
This flight must be booked at least one week in advance of your travel/tour date if you are going to do it through our website.
The confirmation tour voucher includes the name of local contact details and mobile number.
We will happily answer any questions about the flight over the Nazca lines from Pisco.
Apart from the airport of Pisco we also can provide you services from the Ica(not available right now) and Nazca airport, please feel free to ask any questions about these services.
we will require certain information from you to do the reservation for the flight over the Nazca lines from Pisco airport such as :

Participant's full names:

Nationalities:

Passport numbers:

Ages:

Weights:

The hotel address in the Paracas district:

Date of the Nasca Lines Flight from Pisco: 

Service Payment in advance:
Participant restrictions:
Participants weighing over 300 pounds (136 kg) must book an additional seat to accommodate weight restrictions.
Don't forget to bring your passport and camera …!!
Be sure to check out all of the other amazing tours in Paracas that we have to offer!